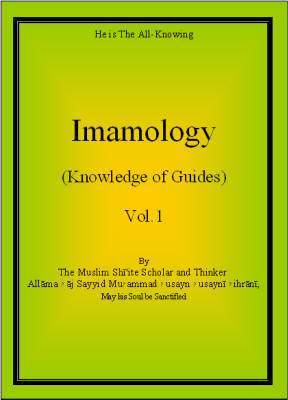 Imam's heart is the core of Divine Unity.
Subject of the Book: Who Can Connect man to God?
■ Can man alone realize his own good and evil?

■ Where should mankind go that he needs a guide and an Imam?

■ Who is man's guide in this realm of being?

■ What is the Imam's role in social and individual life of people?

■ How to connect to the Imam?
Consisting of 270 lectures covered in eighteen volumes, this collection includes exegetical, philosophical, narrational, historical, and social discussions on Imamate and Wilāya in general, and on the Imamate and Wilāya of Amīr al-Mu'minīn Ali and the Infallible Imams, upon whom be peace, in particular, which have been presented as lectures in scholarly-argumentative teaching sessions and adopted from the Qur'an and the traditions reported by the Shī'as and Sunnīs, as well as analytical and critical discourses on Wilāya.

Excerpts from the book:
• Shī'as are different from others in one tenet; Shī'as say: Only the intellect connected to the Supersensible World (malakūt) can guide human society to felicity; but the others say: intellect alone is sufficient.
• Becoming an Imam [leader] is conditional upon keeping away from the carnal self and being annihilated in Infinite Essence of Allah.
• Imam's replies to queries must bring those possessed with knowledge and science to their knees.
• Imam must be fully aware all needs and states of people.
• Without an Imam, man would perish in his fantasies.
• God has provided an Imam in any era; he must be sought for and found.
• Getting to know an Imam is subject to comprehending the realities that are inherent in him.
• Meeting with an Imam must be wished for to attain the Vision of Allah.
• Humanity has no way but accepting the leadership of an Infallible Imam.
• Comparing the Gnostic knowledge of the Shī'a Imams with other ideologies would reveal the superiority and righteousness of the Shī'a.
• In a Utopia, all people make attempts for the guardianship of Ali, upon whom be peace.

Topics of the eighteen volumes:
Vol. 1: Generalities and fundamentals of Imamology
Vol. 2: Definition of those possessed of authority (ulu'l Amr)
Vol. 3: Cognition of the Shī'ism
Vol. 4: Relation of Wilāya to Prophethood
Vol. 5: Reality of Wilāya
Vol. 6 & 7: Al-Ghadīr
Vol. 8: Wilāya of Amīr al-Mu'minīn
Vol. 9: Doctrinal arguments on Al-Ghadīr
Vol. 10: Relationship between the Prophet and Amīr al-Mu'minīn
Vol. 11: Amīr al-Mu'minīn's judgments
Vol. 12: Amīr al-Mu'minīn's sciences
Vol. 13: Hadīth of Thaqalayn (tradition of the two weighty things)
Vol. 14: Shī'ism and authorship
Vol. 15: Al-Sahīfat al-Sajjādiyya (The Psalms of Islam)
Vol. 16 & 17: School of Imam al-Sādiq, upon whom be peace
Vol. 18: Sciences of Imam al-Sādiq, upon whom be peace
View detailed index of:
Vol. 1 - Vol. 2 - Vol. 3 - Vol. 4 - Vol. 5 - Vol. 6 - Vol. 7 - Vol. 8 - Vol. 9 - Vol. 10 - Vol. 11 - Vol. 12 - Vol. 13 - Vol. 14 - Vol. 15 - Vol. 16 - Vol. 17 - Vol. 18.
Persian & Arabic full text
Table of General Concepts
The commentary on the Verse: يا ا بَتِ انَّى قَدْ جائَنى مِنَ الْعِلْمِ ما لَمْ يَأْتِكَ فَاتَّبِعْنى اهْدِكَ صِراطاً سَوِيّا

The commentary on the Verse: وَ مَنْ اضَلُّ مِمَّنِ اتَّبَعَ هَواهُ بِغَيْرِ هُدًى مِنَ اللهِ انَّ اللهَ لا يَهْدِى الْقَوْمَ الظَالِمين

The commentary on the Verse: فَلا اقْسِمُ بِالشَّفَقِ وَ اللَّيْلِ وَ ما وَسَقَ وَ الْقَمَرِ اذَا اتَّسَقَ لَتَرْكَبُنَّ طَبَقاً عَنْ طَبَق

The commentary on the Verse: انَّ الَّذينَ آمَنُوا وَ عَمِلُوا الصّالِحاتِ اولئِكَ هُمْ خَيْرُ الْبَرِيَّة

The commentary on the Verse: وَ مَنْ يُطِعِ اللهَ وَ الرَّسُولَ فَأولئِكَ مَعَ الَّذينَ انْعَمَ اللهُ عَلَيْهِمْ مِنَ النَّبِيِّينَ وَ الصِّديِّقينَ وَ الشُّهداءِ وَ الصَّالِحينَ وَ حَسُنَ اولئِكَ رَفيقا

The commentary on the Verse: مَنْ يُطِعِ الرَّسُولَ فَقَدْ اطاعَ الله‏

The commentary on the Verse: انَّما يُريدُ اللهُ لِيُذْهِبَ عَنْكُمُ الرِّجْسَ اهْلَ الْبَيْتِ وَ يُطَهَّرَكُمْ تَطْهيرا